Erith & Crayford 'Capers' Gang Show
Last October the 'Capers' Gang Show were on the road again. They received a request from Lord Callaghan to perform a show for St George's retreat, Ditchling, East Sussex . Lord Callaghan, residents, staff, guests and Nuns enjoyed original songs material from Ralph Reader, the founder of the Gang Show. Katy Page accompanied them on keyboard. They finished in traditional style with 'On the Crest of a Wave'. Over refreshments the cast talked to residents and guests and were shown around the house and grounds.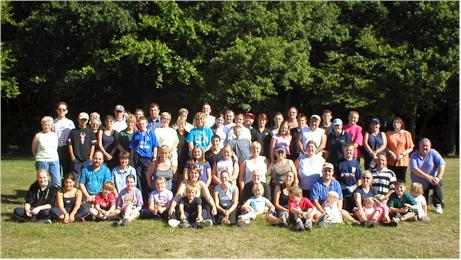 Last summer the 'gang' got together for a family camp at Downe Activity Centre with 70 people attending. Ralph Reader originally started gang shows to raise money for a swimming pool to be built at Downe some 75 years ago. After a weekend of fun and activities with a bar-b-que on the Saturday evening £50 was donated to the completion of the new pool, which should be ready for the International Camp being held there this summer for over 2000 Scouts and Guides. Bob Chapman, Company Secretary of the BCVYO Ltd, is on the core team organising this event so if any groups out there haven't booked yet or if anyone wishes to donate then please contact Bob.
> Information on the fast approaching 'Capers' Gang Show can be found on their website www.capersgangshow.org.uk.
> Info on Campdowne2004 can be found on www.campdowne2004.org.uk .